About Polaroid
No wonder the craze for cameras and clicking pictures has always been there among people of all ages. Clicking pictures with a fine quality camera is equal to capturing the moment and cherishing it for years to come. One can see tremendous growth in the real cameras and no doubt they have come very far with so many improvements. The traditional film cameras are an old thing and even the craze for DSLRs is fading with time. With the latest range of smartphones and cameras, photography has taken a giant leap.
But the love for pictures and cameras remains the same. People are mad over clicking pictures through new methods and cameras. One of the most popular cameras nowadays is the instant film camera which is known to click and show you pictures right at the moment. The camera comes in the form of Polaroid Now+ which is stealing the hearts of people. This camera can be called the next generation instant film camera as it is backed with some of the mind-blowing advanced features and specifications.
The newly reshuffled Polaroid company, known for it's incredible cameras and photography equipment all across the world, has brought Bluetooth-backed instant cameras while keeping the photography basics intact.
The brand new Now+ plus app will give you an immersive menu featuring incredible features that we are going to talk about in the review below.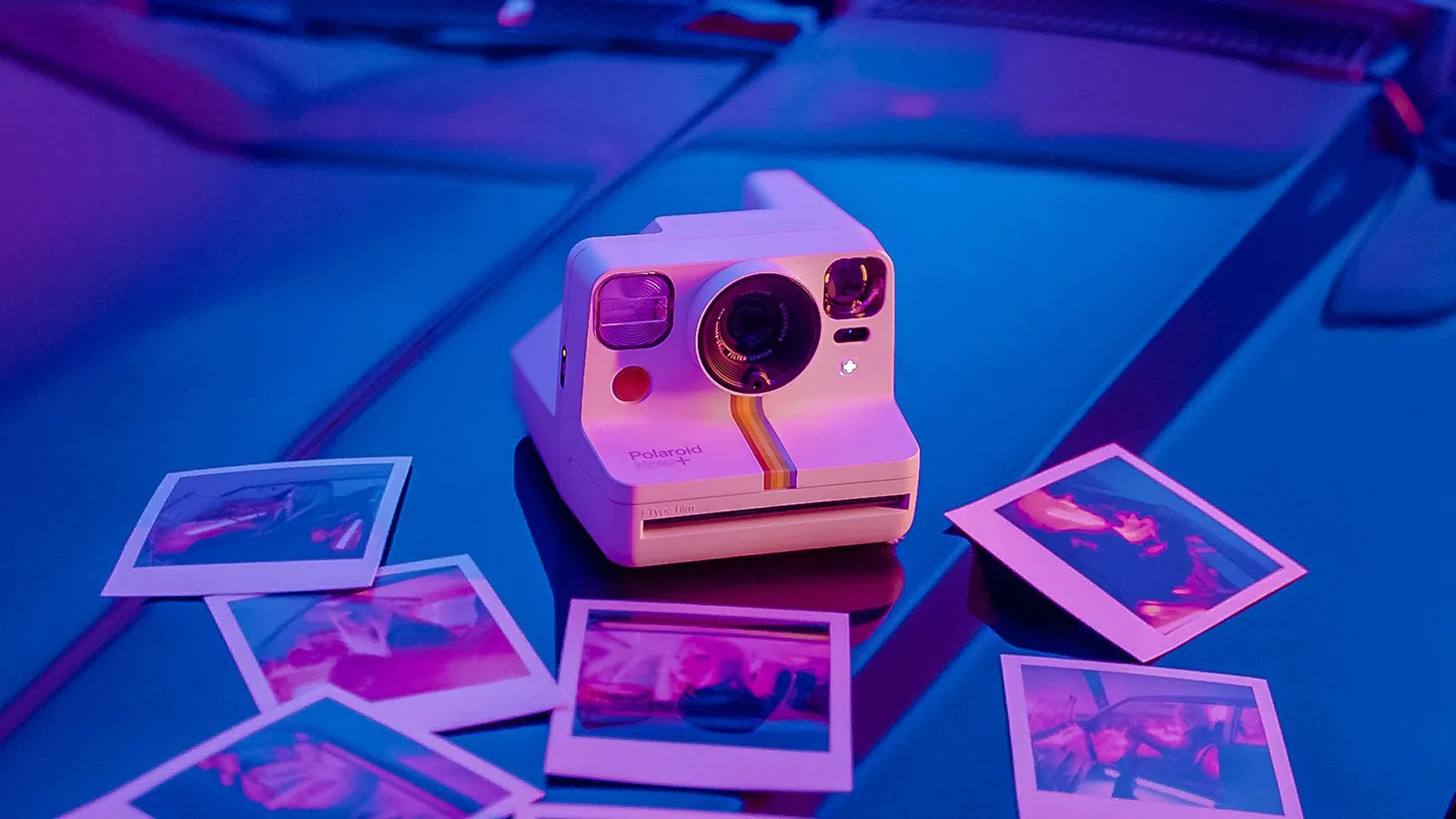 How it is different from others?
Polaroid Now+ brings in something new to the table. It has maintained its old-school aesthetics but comes with modern functionality. No wonder, this camera is a combination of modern and vintage camera systems. The Polaroid Now Plus is completely different from others as it has a new revamped mobile app that allows the user to use a wide range of creative options with so much ease. This Polaroid App is available for Android as well as iOS. Also, it includes a remote shutter, night as well as double exposure modes. It also comes with aperture priority mode. The camera also has a complete manual function which allows the user to enjoy independent control over its aperture, focus, flash, as well as shutter speed.
The iconic styling of Polaroid Now+ remains intact but is it not backed with 21st-century conveniences. For people who like to have better creative control over instant images, this camera is the best option for them.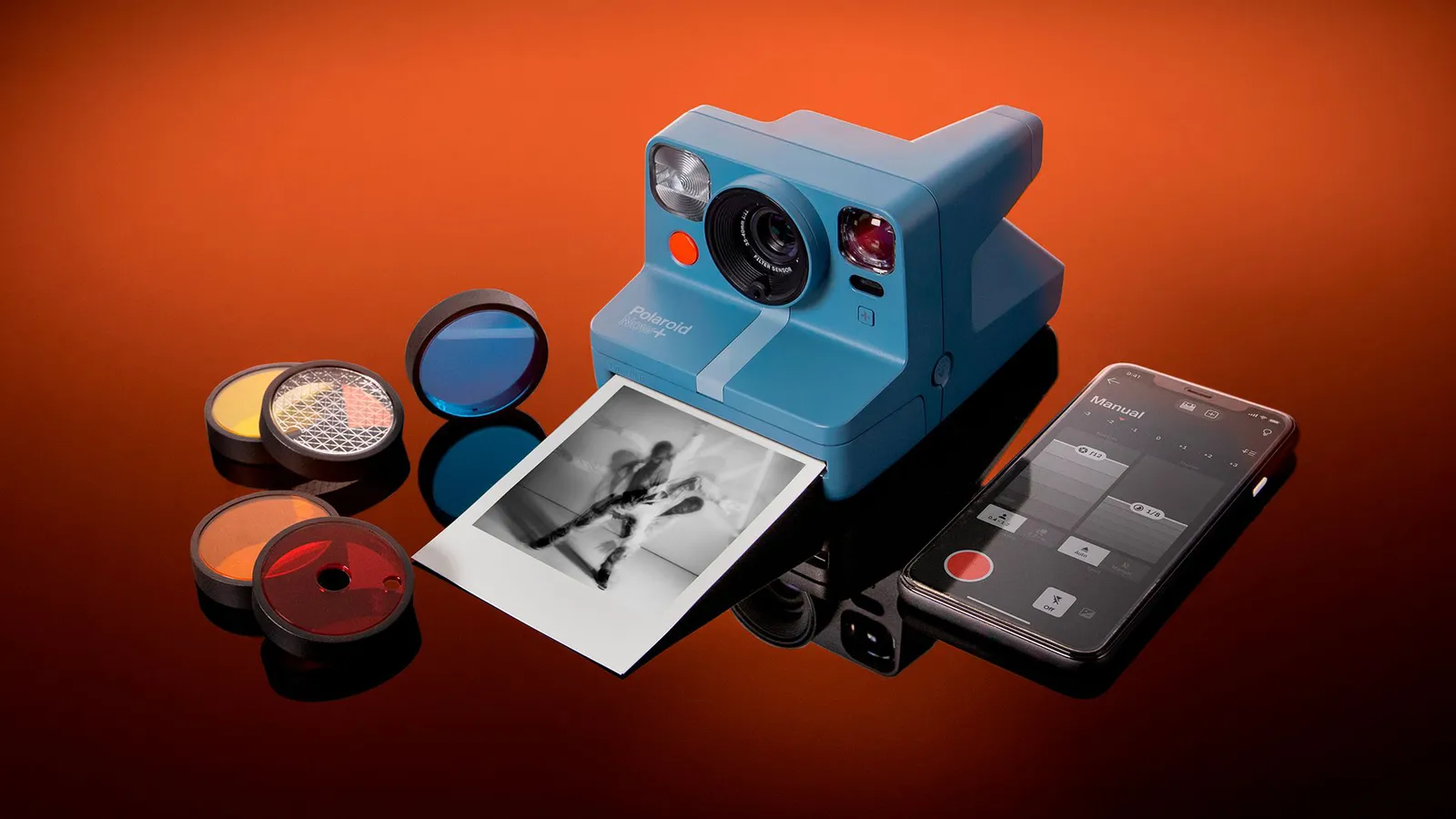 Features of Polaroid Now+
Bluetooth connectivity – This instant camera offers Bluetooth support for better mobile phone app connectivity. Bluetooth connectivity feature allows the user to experience better opportunities and experiment a lot.
Autofocus system – This instant camera comes with a dual-zone autofocus system that allows the camera to either select standard or close-up lenses automatically. Also, one has the freedom to manually select the flash as well as compensate for the camera exposure depending on the situation.
Camera modes – The camera supports various modes. For instance, its tripod mode is beneficial and can be used with its camera tripod mount. It allows understanding of the length of the exposure. Also, its portrait mode tells whether a person is too far or too close. It also has light painting mode which allows to start the exposure, turn the flashlight of the phone and automatically stops when the painting is done.
Rechargeable battery – Polaroid Now+ comes with a rechargeable battery that can be charged with a USB charging cable. This allows the creativity of the person to flow without any interruption.
Push-on lens filters – The camera comes with 5 unique lens filters for various moods. It allows to saturate the photos in color, add beautiful effects, and deepens the contrast with the help of five lens filters blue, yellow, starburst, orange, as well as a red vignette.
Camera silhouette – The silhouette of the Polaroid Now+ camera is softer and has modern lines. In the front, the camera has a 40mm equivalent lens, flash, viewfinder, as well as shutter button. Also, there is a Bluetooth button and indicator light and at the bottom, there is a film ejection slot. At the side of the camera, there is a micro-USB charging port and at the base of the camera, there is 1/4in a standard tripod socket as well. Whereas the rear camera has the power button, joint flash, LED display, as well as an exposure compensation button.
Polaroid App – The smartphone app of Polaroid Now+ is presented nicely and is super simple to navigate. This app is available for both Android as well as iOS which expands the creative capabilities of the camera. It also offers dedicated modes for better exposures, portraits, light painting, as well as night photography. For beginners, there are some tooltips.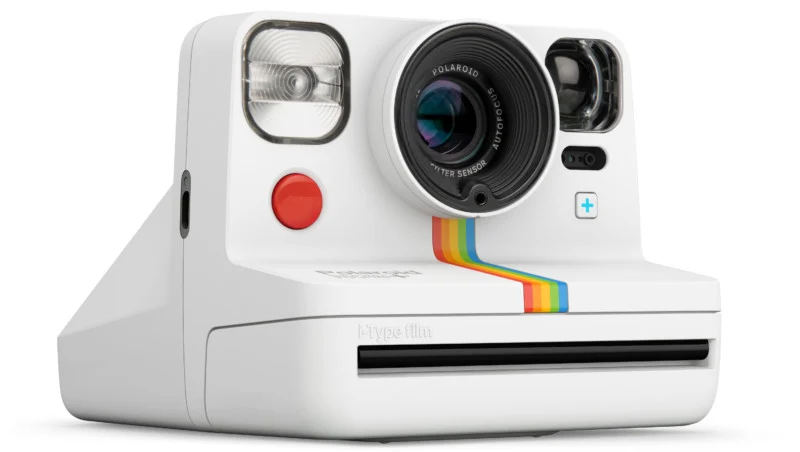 Technical Specifications of Polaroid Now+
Here are some of the technical specifications of Polaroid Now+ mentioned below:
Camera – The dimensions of Polaroid Now+ camera is 5.9 in / 150.16 mm (L) x 4.4 in/ 112.2 mm (W) x 3.8 in/ 95.48 mm (H). Also, its weight is around 457grams without the film pack.
Battery – The battery of this instant camera is made of a lithium-ion battery.
Outer shell – The outer shell of the camera is made of polycarbonate + ABS lens and the lenses are made of polycarbonate resin.
Focal length – The focal length offered by the standard lens is 102.35 mm which is 40mm/35 equivalent. And the close-up lens offers 94.96 mm which is 35mm. 35 equivalent of focal length.
Flash system – It has an auto-adjust output vacuum flash system along with a discharge tube strobe system.
Other specifications – It also comes with a lens filter fit, a neck strap that has a tripod mount, as well a USB charging cable.
Field of view – The camera offers 40 degrees of the horizontal field of view and 41 degrees of vertical field of view.
Development time – Polaroid Now+ takes 10-15 minutes of development time for color film and 5-10 minutes of development time for black and white film.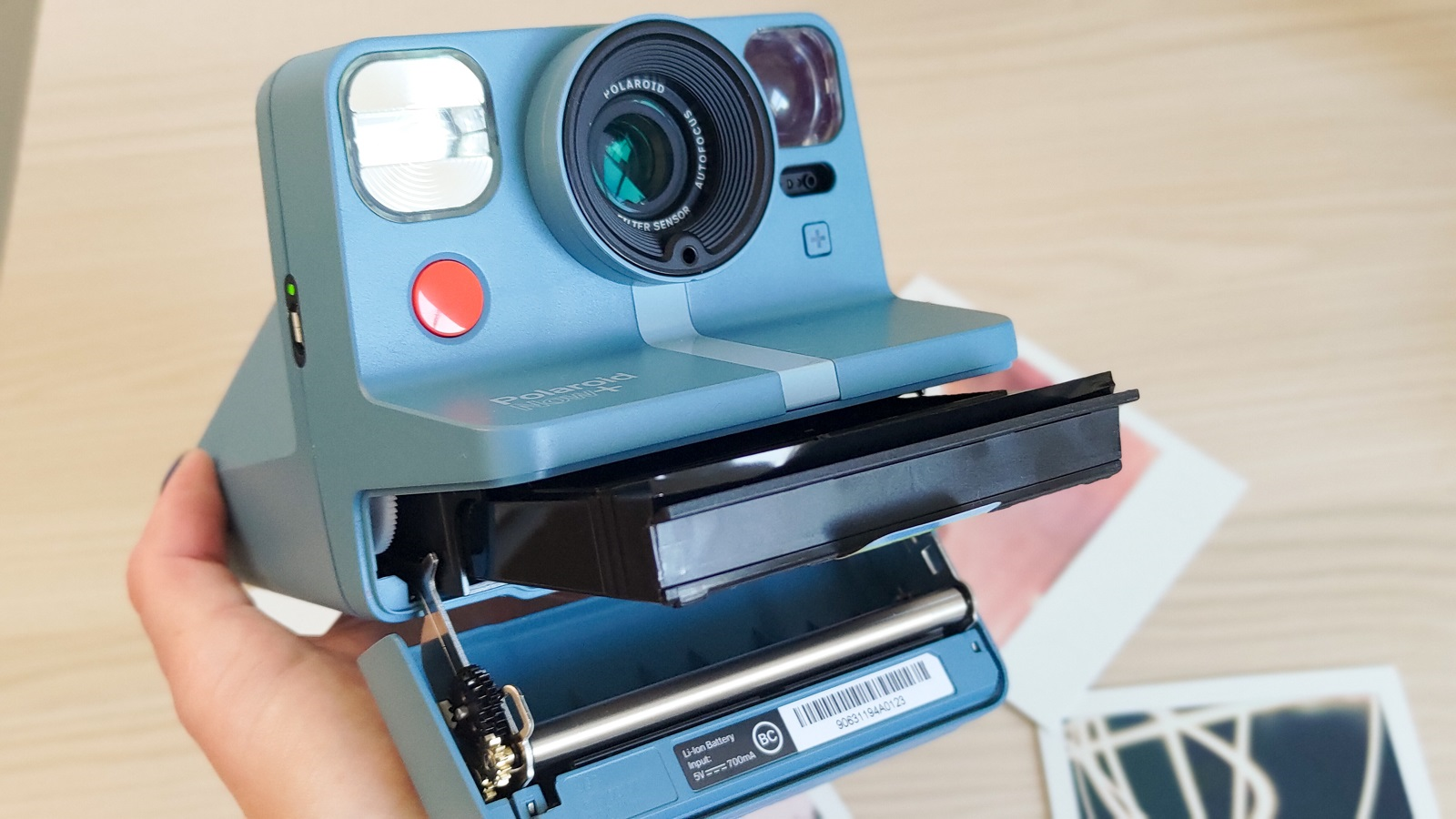 PROS
It offers big and square instant pictures.
The camera offers easy one-button operations.
It comes with a mobile phone application for better creative control.
The camera comes with a tripod socket as well as a USB charging cable.
It offers color, black and white, as well as limited-run films.
CONS
Its color films do not offer consistent results.
There is no option for a selfie mirror.
The film with the camera is expensive.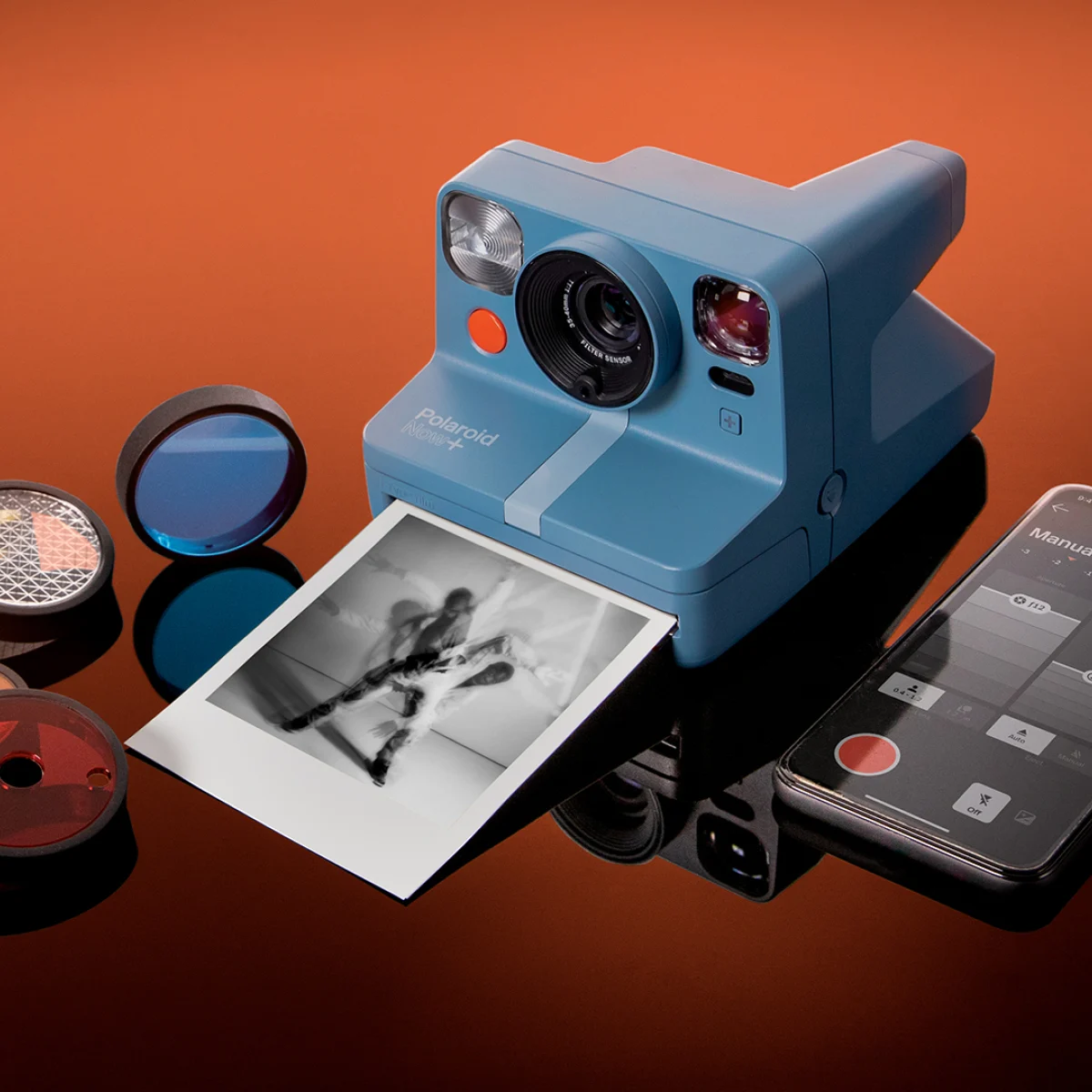 Who Should Buy It?
If you are someone who wants large print-sized pictures like Polaroid print then you should go for it.
If you are looking for an instant camera with various shooting modes such as point-and-shoot feature along with the lens filters, etc, then you should buy it.
If you want exceptional picture quality then go for it. It features a twin autofocus lens to give you impressive detailing in pictures.
Who Should Not Buy It?
If you are tight on budget then don't go for it. Although it's worth every penny, still you can get cheaper options.
If you are looking for a highly portable option then don't consider it. It comes with a classic retro design with some added weight.
If you are not into buying expensive things then you should not consider it.
Final Thoughts
The Polaroid Now+ offers some impressive features which can ease the user experience. It comes in beautiful color options like Blue, grey, etc. This instant camera comes with Polaroid App which is free to download and uses a quick Bluetooth connection. Overall, this camera is backed with some solid features and specifications which offer a premium feel. Thus, buying Polaroid Now+ can be a great move for camera enthusiasts.