Menstrual care is an essential aspect of every woman's life. With the market flooded with various brands and options, choosing the right one can be overwhelming. One brand that has been gaining significant attention is Nua Woman. In this comprehensive guide, we will delve into the world of Nua Woman and answer the burning question: Is it worth the hype?
What is Nua Woman?
Nua is a new-age consumer-centric brand challenging the status quo in the femcare space. The brand was founded in 2017 by Prabhjeet Singh and Riddhiman Das, with a mission to provide Indian women with access to safe, sustainable, and affordable feminine hygiene products.
Nua Woman is a revolutionary brand dedicated to providing women with high-quality menstrual care products. Their range includes sanitary pads, intimate wash, menstrual cups, and panty liners.
What sets Nua Woman apart is their commitment to using natural and sustainable materials, making their products safe for both women and the environment. Nua Woman has quickly become a popular choice among women seeking a healthier and more eco-friendly alternative.
Nua offers a wide range of period care products, including:
Ultra-thin, rash-free sanitary pads
Panty liners
Cramp comfort
Skin care products
The brand's products are made with natural and organic materials, and are free of harmful chemicals such as chlorine, bleach, and parabens. Nua is also committed to sustainability, and its products are packaged in recyclable materials.
Nua has quickly become a popular brand among Indian women, thanks to its high-quality products, affordable prices, and commitment to sustainability. The brand has also been praised for its progressive marketing campaigns, which challenge traditional taboos around menstruation and promote female empowerment.
Understanding the Hype Around Nua Woman
The hype surrounding Nua Woman is not without reason. As more women prioritize their health and environmental impact, Nua Woman has emerged as a brand that aligns with these values. Their commitment to using natural materials means that their products are free from harmful chemicals and toxins often found in conventional menstrual care products. Additionally, Nua Woman's focus on sustainability resonates with environmentally conscious individuals who want to make a positive impact on the planet.
However, it's important to approach the hype with a critical eye. While Nua Woman has garnered a loyal following, it's essential to evaluate the pros and cons before making a decision.
Pros and Cons of Using Nua Woman Products
Before diving into a detailed review of Nua Woman products, let's weigh the pros and cons of incorporating their menstrual care products into your routine.
Pros:
Natural and Sustainable: Nua Woman products are made from natural and sustainable materials, ensuring that you are not exposed to harmful chemicals and reducing your environmental footprint.
Comfortable and Breathable: Nua Woman sanitary pads and panty liners are known for their exceptional comfort and breathability, offering a seamless experience during your period.
Reliable Protection: Nua Woman products provide reliable and leak-proof protection, giving you peace of mind throughout the day.
Eco-Friendly Packaging: Nua Woman is committed to reducing waste, and their packaging reflects this ethos, making it easy for you to make a sustainable choice.
Cons:
Limited Availability: Nua Woman products may not be widely available in all regions, making it challenging for some women to access their range.
Higher Price Point: Compared to conventional menstrual care products, Nua Woman products may have a slightly higher price point. However, the quality and sustainability make it a worthwhile investment.
Now that we have examined the pros and cons, let's dive into a detailed review of Nua Woman's product range.
Detailed Review of Nua Woman Products
Nua Woman Sanitary Pads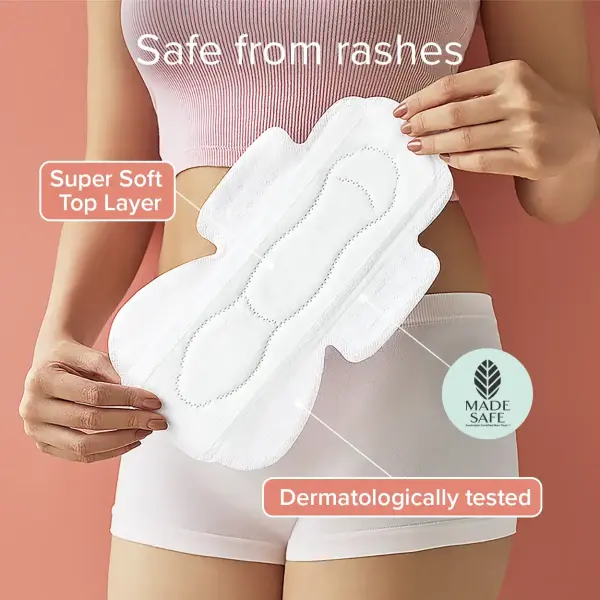 Nua Woman sanitary pads are designed to provide maximum comfort and protection during your period. Made from natural materials, these pads are free from harmful chemicals, making them gentle on your skin. The pads are highly absorbent and have excellent leak-proof capabilities, allowing you to go about your day without any worries. Additionally, the soft and breathable fabric ensures that you stay comfortable throughout your period. Nua Woman sanitary pads come in various sizes to cater to different flow levels, making them suitable for all women.
Nua Woman Intimate Wash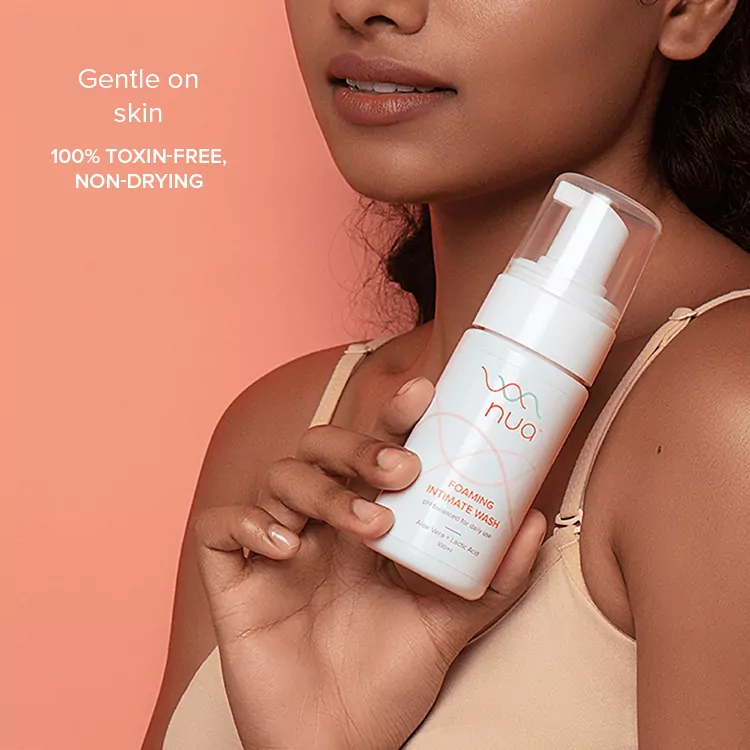 Maintaining intimate hygiene is crucial for every woman, and Nua Woman's intimate wash is designed to help you do just that. Made from natural ingredients, this gentle wash cleanses and refreshes without causing any irritation. Nua Woman's intimate wash is pH-balanced, ensuring that it maintains the natural balance of your intimate area. It is free from harsh chemicals and artificial fragrances, making it suitable for even the most sensitive skin. Regular use of Nua Woman's intimate wash will leave you feeling clean, fresh, and confident.
Nua Woman Cramp comfort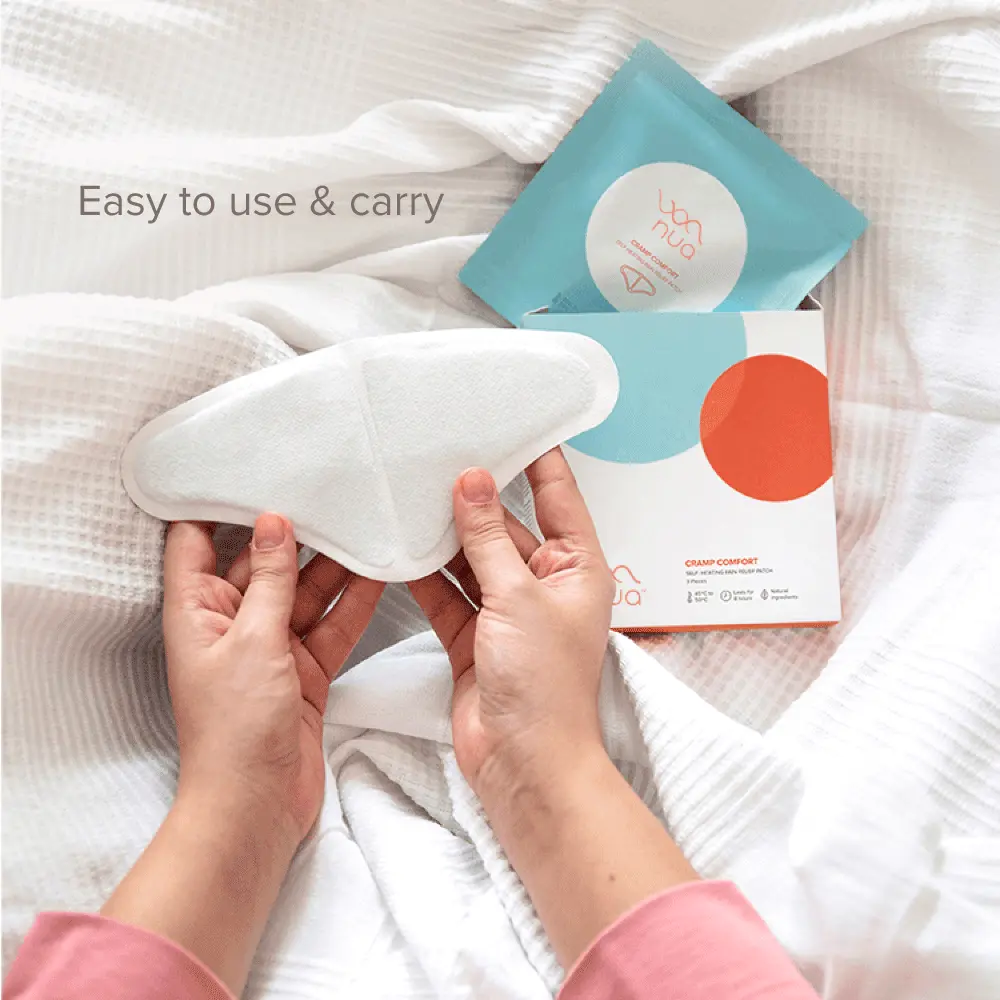 Introducing Nua Cramp Comfort, a revolutionary self-heating patch designed to provide up to 8 hours of soothing relief from menstrual cramps. Developed under expert guidance, Cramp Comfort is crafted from all-natural ingredients, making it eco-friendly and suitable for use as a fertilizer for your potted plants. With its comforting warmth, Cramp Comfort offers a portable and convenient alternative to traditional hot water bags. Nua offers a variety of products to help relieve menstrual cramps, including heat patches, pain relief tablets, and essential oil blends.
Nua Woman Panty Liners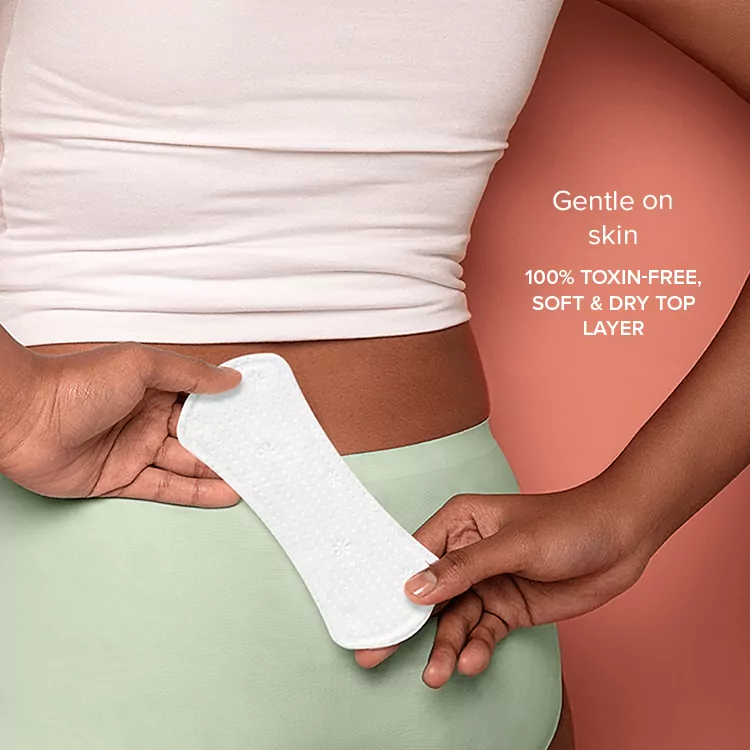 Nua Woman panty liners are perfect for those light flow days or as backup protection when using menstrual cups. These liners are incredibly thin and discreet, allowing you to feel fresh and confident throughout the day. Made from natural materials, Nua Woman panty liners are free from harmful chemicals and are gentle on your skin. They provide reliable protection against leaks and are designed to be breathable, ensuring optimal comfort.
Comparing Nua Woman with Other Menstrual Care Brands
While Nua Woman has its unique selling points, it's essential to compare it with other menstrual care brands to make an informed decision. When considering factors such as sustainability, comfort, and reliability, Nua Woman consistently stands out. However, personal preferences and individual needs may vary, so it's worth exploring different brands to find the best fit for you.
Customer Reviews and Feedback on Nua Woman
Customer reviews and feedback play a crucial role in determining the efficacy and popularity of any product. Nua Woman has received overwhelmingly positive reviews from women who have incorporated their products into their menstrual care routine. Customers praise the comfort, reliability, and sustainability of Nua Woman products. Many women also appreciate the brand's dedication to using natural materials that are gentle on their skin. However, as with any product, there may be some mixed reviews, highlighting individual experiences and preferences.
Nua Promotions & Discounts
Nua offers a variety of promotions and discounts throughout the year. Here are some of the most common:
In addition to these general promotions, Nua also offers a variety of limited-time promotions and discounts. For example, the brand may offer a discount on certain items during a holiday sale or on a new collection launch.
Nua Shipping & Return Policy
Nua offers a variety of shipping and return options to its customers.
Shipping
Nua offers free standard shipping on all orders over ₹500 within India. Orders under ₹500 will incur a shipping fee of ₹49.
Nua also offers a variety of expedited shipping options, including same-day delivery and international delivery. Expedited shipping fees vary depending on the destination and the delivery option chosen.
Returns
Nua offers a 60-day return policy on all products. Items must be returned in their original condition with all tags attached.
To return an item, simply visit the Nua website or contact customer service for a return shipping label.
Nua will refund the purchase price of the item, minus the cost of shipping and handling.
Where to Buy Nua Woman Products
Nua Woman products can be purchased directly from their official website (https://nuawoman.com/). While availability may vary depending on your location, the brand is steadily expanding its reach. Additionally, Nua Woman products may be available in select retail stores and online marketplaces. It's advisable to check their website for the most up-to-date information on where to purchase their products.
Conclusion: Is Nua Woman Worth the Hype?
After a thorough examination of Nua Woman's range of menstrual care products, it's evident that the brand lives up to the hype. Their commitment to using natural materials, sustainability, and providing reliable protection make Nua Woman a worthwhile investment. While availability and price point may be minor concerns, the overall benefits and positive customer reviews outweigh these factors. If you prioritize your health, comfort, and the environment, Nua Woman is definitely worth considering for your menstrual care needs.
Now that you have all the information, it's time to make an informed decision and give Nua Woman a try. Your menstrual care routine deserves nothing but the best.